BlueSky Business Aviation News; U.S. Campaign Launches to Promote Aviation Manufacturing Training
09.18.13 · Greteman Group
September 18, 2013 BlueSky Business Aviation News
BlueSky Business Aviation News
Sonia Greteman

, president/creative director, at Greteman Group, a marketing communications agency based in Wichita, the Air Capital.

U.S. Campaign Launches to Promote Aviation Manufacturing Training

---
n outreach campaign launching this fall promises to elevate lives – and an industry. Aviation continues to pull out of one of the worst depressions in history. But it is pulling out. And as manufacturers ramp up their hiring again, they're struggling to fill a growing skilled-labor gap.
To meet this need, a $15m grant was awarded to the National Aviation Consortium (NAC). It's all part of the U.S. Department of Labor Trade Adjustment Assistance Community College and Career Training initiative. The consortium includes colleges in Kansas, Indiana, North Carolina, Oklahoma and Washington. Bringing It All Together NAC bridges the gap between manufacturers and workers. It partners with employers to develop a much-needed standardized curriculum for today's jobs. It also provides relevant training for unfilled positions. NAC's accelerated programs cut downtime and on-the-job training, benefitting both the companies hiring and the individuals being hired. Outreach Team Selected To spread news of the consortium and its opportunities, a portion of NAC's funding was allotted for outreach. Earlier this year, NAC conducted a request-for-proposal process and selected our Wichita-based marketing agency for support.
A Brand Built to Soar

NAC colleges across the country and Greteman Group collaboratively developed the campaign's overarching messages. Move Yourself Up speaks to students eager to climb high. Trained and Ready addresses employers by showing how NAC programs train students for real jobs available now. The tagline Education With a Flight Plan unites both the student and employer-focused themes.

NAC's new visuals convey movement and suggest success. Graphic arrows shoot skyward. Aircraft ascend, as do individuals. And a logo that suggests a pathway rising above the horizon, speaks to both aviation and the future. The visuals are put in motion through two targeted, animated :30 TV spots that also can be shared through social media. A diverse set of branded materials further expand NAC's outreach.

As soon as the NAC logo took shape, we knew we loved it. With shapes evoking everything from origami, a bird in flight, an aircraft taking off, or even a pathway extending beyond the horizon, it encompasses the uplifting mission of NAC.
Watch for NAC's National Campaign The consortium now has a customizable campaign with a toolkit that includes TV, radio, print, outdoor and social media. Each NAC college can tailor templates and messaging to their individual school's needs and regional markets. Education With a Flight Plan creates a path that helps people move themselves up and employers looking for folks trained and ready. We call that a win win.
A detailed strategy and implementation plan weren't the only components to the vital social media piece of the NAC's campaign.Head-turning visuals give each of the social platforms a dynamic and brand-consistent presence. Check out NAC on Facebook, Twitter, YouTube, LinkedIn and Google+.
Print and digital ads speak to both employer and student audiences, showcasing either the trained-and-ready worker or the student about to move himself up.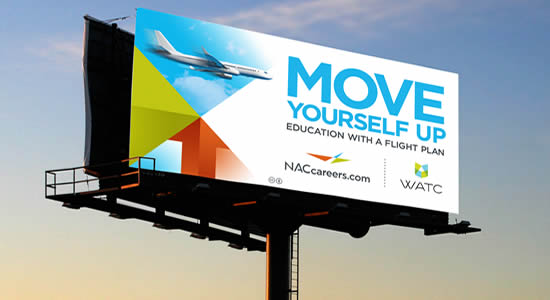 The NAC billboards are sure to catch drivers' eyes with their bright colors, bold design and striking message.